Cavalier King Charles Spaniel Puppies in Oregon
Home raised Cavalier King Charles Spaniel breeders for over 10 years.
See our health testing and breeding protocal (bottom of page).
Our Latest Litters
Check out puppy videos
---
Mackenzie's second litter was born 3/31/16. She was breed to Macy Jr and we have three girls, two ruby and one black & tan. See the Facebook photo album.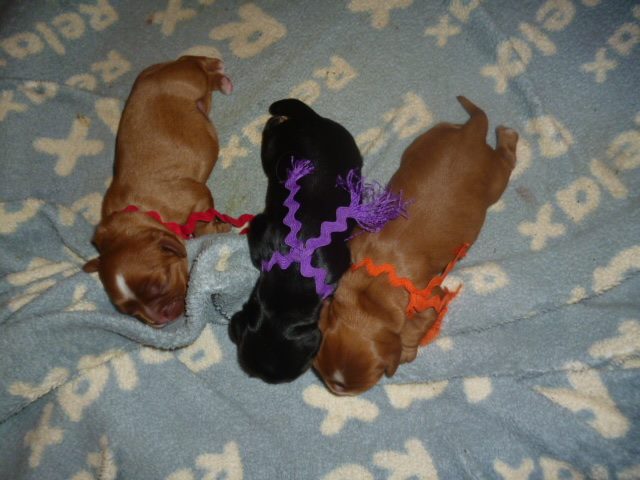 ---
Our Breeding Protocol
Sire & Dam are both tested for Eyes, and Heart annually and must be certified as clear and have hip x-rayed and Patella certified. Before re-homing puppies have dew claws removed, received full shots, had a professional structural evaluation, had eyes tested, hearts checked and complete well puppy checks. Puppies are crate trained and have started their house training.
You will receive copies of all certificates, Sire, Dam and Puppy.
You are always welcome to our home to view the mom and puppies.
Be prepared for an indepth evaluation. We want to make sure our puppies go to a good home as much as you are interested in getting a well breed puppy.
Be sure to check out our Cavalier King Charles puppy blog