Our Initial Cavalier Family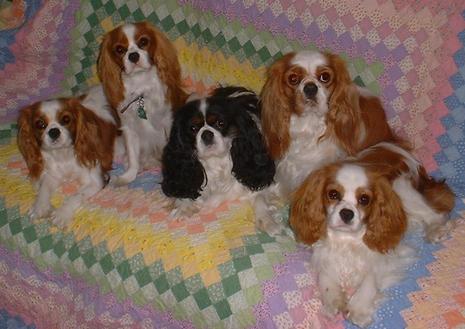 Leighla, Roy, Sir Oliver, Smudgers, Sheerer (Xmas Pic)
Leighla - Our English mommy from Delores Cavaliers. (see her first litter) (litter II). Leighla's page
Roy - Leighla's nephew from Delores Cavaliers, now in a nice home in Alamo, CA under the alias of Romeo!
Sir Oliver - Our first Cavalier and the KING of the household. Nothing happens at this home unless Sir Oliver approves. Even his dog tag says "The Boss". Oliver's Picture Page. Oliver lived in Alamo with Romeo (Roy) to the age of 15 years.
Smudgers - Oliver's brother and littermate. Mr Mellow to the Max, his whole mission is to be the perfect puppy, doing everything asked so he can lay on your lap. He also lived to age 15 and was heart clear.
CH Sheerer Lad - The softest, sweetest Cavalier ever. He will just melt into your arms. From Milkeyn Cavaliers, England, Sheerer is absolutely gorgeous. His first weekend out in the states he won Best in Breed Puppy both days. Sheerer's Page
The next generations
Jenna - From Leighla's first litter. Loves to smother you with hugs. Jenna's Page
Aramis and Alexandra - Leighla's second litter. Both outstanding pups and did well in the ring includeing a double win of Winners Dog and Winners Bitch at the Santa Cruz Kennel club show. Aramis and Alexandra page
The Three Girls - Leighla's litter. The Girls Page
2003 Addition - the story of the Black & Tans
2005 Additions - Tabatha and Katrina
2007 - Maxwell
2008/9 - Tabatha's litters and Tabatha's puppies we kept to breed:
Serena, Ruby Rose, Maggie and Elisabeth
2010 - Freddie
2011 - Samantha Ruby Rose Litter featuring Tristan
2012 - Maggie's Litter featuring Mackenzie
2013 - Macy Jr, Maggie's Litter featuring Tara, Samantha Ruby Rose Litter,
2014 - Maggies's Litter featuring Aedon, Julie
2015 - Mackenzie litter featuring Bear
2016 - Mackenzie litter featuring Mocha
2017 - Tera's Litter Album on Facebook featuring Olivia. Mackenzie litter born 10/23/17
2020 - Gideon, Mocha Litter album
2021 - Olivia Litter album, Mocha Litter album